Riding the Roses

Billy Redden did a sponsored cycle ride along 'The Way of the Roses' from Morecambe to Bridlington.

He raised a whopping £394.00!




Everybody likes cake!

Tracy Lancaster from Millom raised a huge £686.54 by selling home made cakes at Sellafield. Well done Tracy!


Collection Tins at Number 4

Hair at Number 4, the hairdressers at 4 Salford Terrace, Main St, Egremont have managed to raise £35.56 by hosting out collection tins! A big thank you to all the staff and customers for their generosity.


On yer bike!

Wes Wilson rode the Coast to Coast cycle route between 24th - 26th June 2013. He raised a whopping £415 in sponsorship and can be seen with his daughters below handing a cheque to Dawn, Sandra and Kelly of GUAB2010.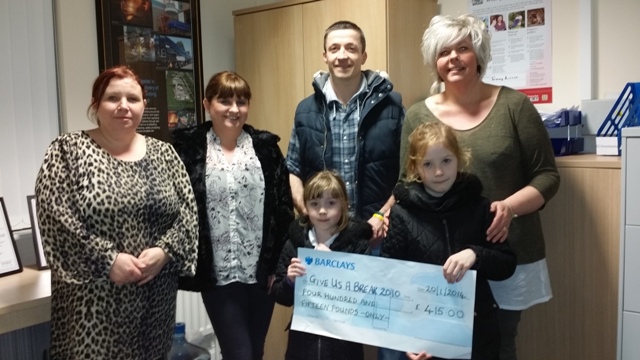 Sandra Lee (left), Kelly Agnew and Dawn Raynor (right) receive a cheque
from Wes Wilson and his daughters.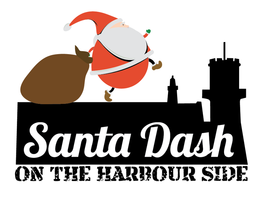 Santa Dash 2013

Our raffle raised £59.50 at the Santa Dash on 1st December. Thank you to all those who contributed and helped at the GUAB2010 stall.


Thank You Leonard Raynor

Leonard ran the Salomon Kielder Marathon in aid of GUAB2010 and raised a massive £560.00!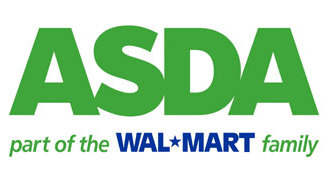 £1000 Raised by Asda Staff
£1,000 was raised by Deputy Manager Natalie Hynes and Colleague Adam Walker when Natalie and Adam rode from Dunmail Park Asda to Whitehaven, dressed as Buzz Lightyear (on rollerblades) and Woody (on a bicycle) from Disney's Toy Story.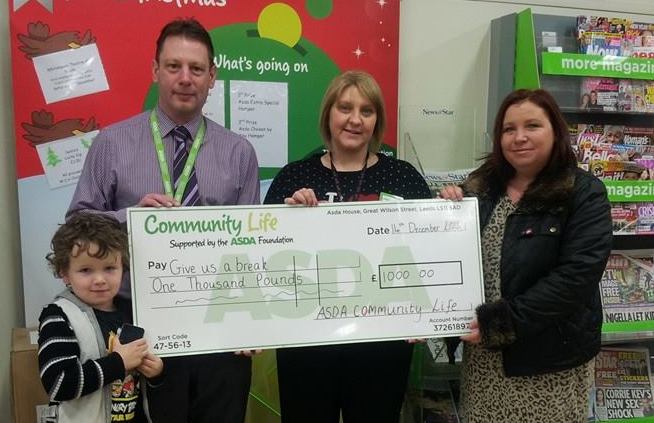 Sandra Lee (right) and Joel Reid (left) of GUAB2010 receive a cheque from Jayne Allonby (Community Life Champion - Asda) and Stuart Goodfellow (Store Manager, Asda Whitehaven)

£5000 Donation from Santander

Give Us A Break 2010 has been awarded a grant of £5000 by the Santander Foundation
's Community Plus initiative which provides grants that help disadvantaged people in local communities. The grant is to be used to provide a stimulating sensory room in the RaynorShine centre.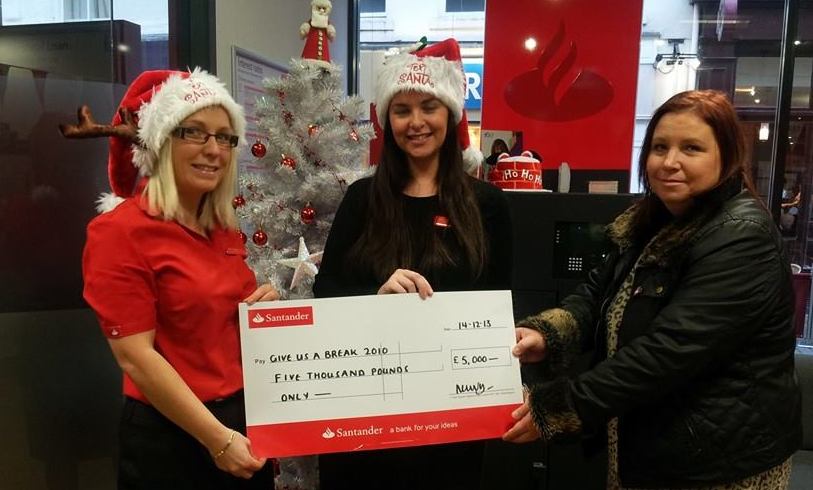 Sandra Lee of GUAB2010 (right) receives a cheque from Claire Eve (left),
and Michelle Lowery (middle) of Santander, Whitehaven.
£25,000 prize with GUAB2010 Lottery

!
Give Us A Break 2010 are members of the 'Unity Lottery' run by Sterling Lotteries based in Barrow-In-Furness.

Players pay

£

1 every week to receive a unique six digit number, with 50p of that going towards

Give Us A Break 2010.
A lottery draw takes place every week with prizes from
£
5 to
£
25,000 up for grabs.


Wasdale Head Inn raises £77.46


Thanks to

The Wasdale Head Inn

they raised £77.46 in their collecting tins on the bar!!


www.wasdale.com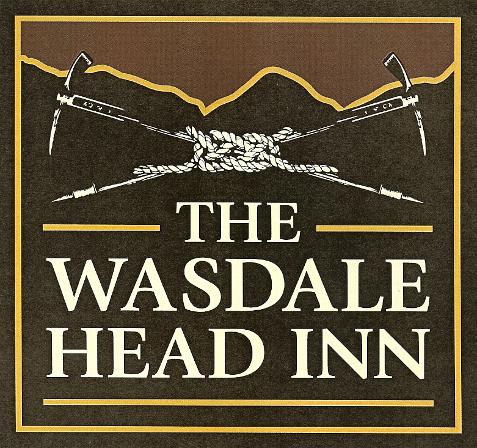 'Suffering' Steve Cope raises £150
Steve cope raised over £150 by taking part in 'The Suffering' - a gruelling 10Km obstacle course at Rockingham.
Steve said "The day? Well I can see why they call it The Suffering! They could never be charged under the trades description act.

It actually was a great day and a great experience, regardless of how hard it was.

Luckily it wasn't too warm, a nice cooling breeze blowing up the valley and occasional light rain that attempted to wash the mud and blood from my broken body!

Steve before and during the race and his prized medal top right

Well Done Kyla Tinkler


Kyla Tinkler of Richmond, Whitehaven in association with Overend Childrens' Home raised over £120 in aid of Give Us A Break 2010 by completing a sponsored walk around Ennerdale lake!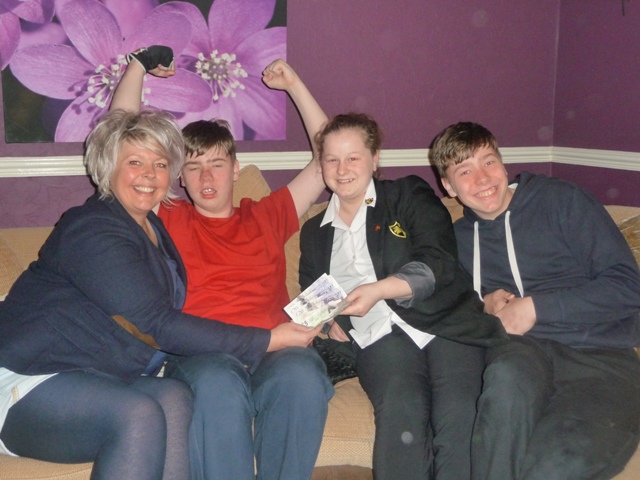 Kyla presents the cash she has raised to Dawn, Callan & Ethan Raynor
after her sponsored walk.

Sept / Oct 2013 Newsletter
August 2013 Newsletter

Newsletters are in PDF format.

Download Adobe Reader
here
-- the free, trusted standard for reliably viewing and interacting with PDF files.